What Causes Toenail Fungus? (2023)
BY PUREHEALTH RESEARCH | March 4, 2023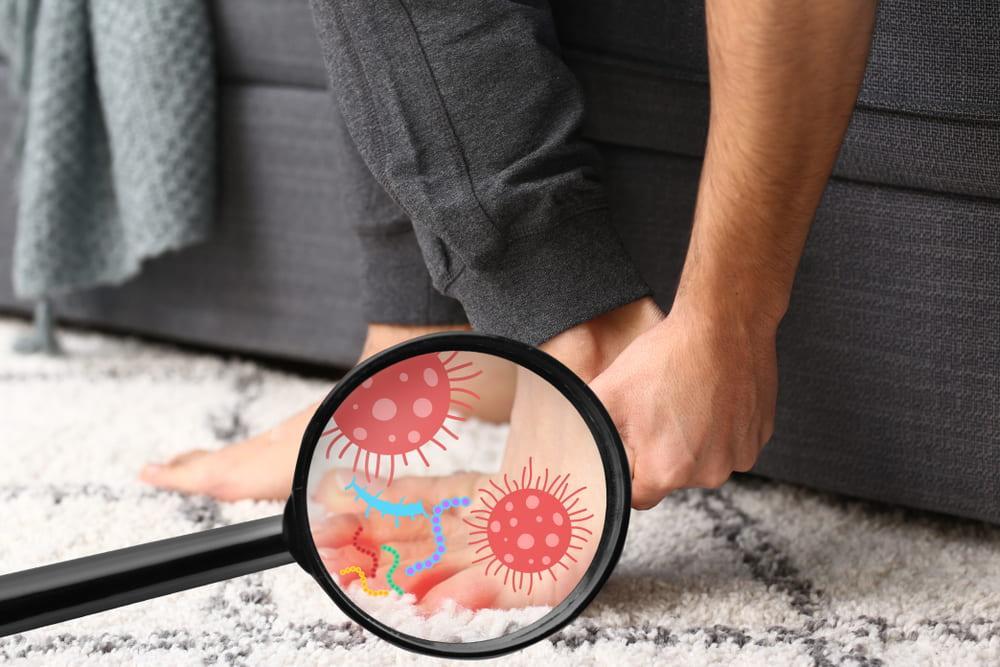 Toenail fungus. We've all seen it and we know that we don't want that on our feet! Knowing what causes toenail fungus and what to do to prevent it is the best way to keep it out of our bodies.
Toenail fungus is an infection of the toenail(s) that can cause them to turn yellow or white and that can make them grow thick or uneven. You might also notice a foul odor coming from your toenails. Or, your nails could begin lifting off of the nailbed and seem to be at risk of falling off completely. Even though toenail fungus can cause thick growth, that growth is often brittle and uneven.
If left untreated, toenail fungus can spread and be more difficult to get under control. The good news, though, is that if you catch it quickly, it's an easy fix!
So What Causes Toenail Fungus?
Toenail fungus is a catch-all phrase for various infections caused by microscopic organisms that grow underneath the toenails and there are different types of them. So what causes toenail fungus? Here are the 5 main reasons:
Warm, moist environments: Fungi thrive in warm and moist environments, which is why toenail fungus is more common in the summer months. If you spend a lot of time in environments like gym showers or pools, you may be more at risk for developing toenail fungus.
Tight, closed-toe shoes: Wearing shoes that are too tight or that don't allow your feet to breathe can create a breeding ground for fungi. It is important to wear shoes that fit properly and have proper ventilation to reduce your risk of toenail fungus.
Poor hygiene: Failing to keep your feet clean and dry can also increase your risk of toenail fungus. This is especially important if you have a skin condition such as athlete's foot, as the fungus can spread from one area to another.
A weakened immune system: If you have a compromised immune system, you may be more susceptible to toenail fungus. This can be due to conditions such as diabetes or HIV, or if you are taking medications that weaken your immune system.
Age: As we age, our nails tend to become thicker and more prone to fungus. This is because the nails become more porous, making it easier for fungi to take hold.
Treating Toenail Fungus
Treating nail fungus doesn't have to be a big deal if you catch it early and have the proper treatments on hand. Using a Fungus Eliminator is an easy, efficient way to keep toenail fungus at bay. You'll want to look for one that is specifically formulated for nail fungus so that it kills it properly and prevents a reoccurrence. These eliminators are excellent for an easy daily application that stops the bacteria in its tracks and keeps it from coming back (along with proper hygiene and methods for keeping feet clean and dry).
Depending on how long the toenail fungus has been present, treatment times will vary. If it's been allowed to grow and fester for months, you might need to apply the topical treatment for the same amount of time to prevent regrowth. This is why it's so important to have a fungus eliminator on hand so that you can begin application at the first signs of the fungus that causes toenails to turn thick, white, or yellow.
If you don't see results right away, this is normal. The discoloration, thickness, and brittleness of the nail won't "heal" once it's already been changed; you have to wait to see clean growth come in. It can take a while for new, healthy growth to come through, especially if the nail has been "sick" for months. Keep applying the topical treatment until you see a fully clear, clean, normal nail grow in.
Sometimes, though, medical attention is necessary. For example, if you have diabetes or circulatory problems, you should always turn to a medical professional first as infections can cause secondary issues and complications quickly. At-home treatments will help relieve the common symptoms of odor, pain, and discoloration while you wait to get in to see a podiatrist, though, if the infection is severe. Getting an appointment with a podiatrist can take a long time and can be costly, so you want to have options to treat nail fungus at home before having to go to a doctor as well as have something available while you wait. You can also read our article on how to know if the fungus is dying.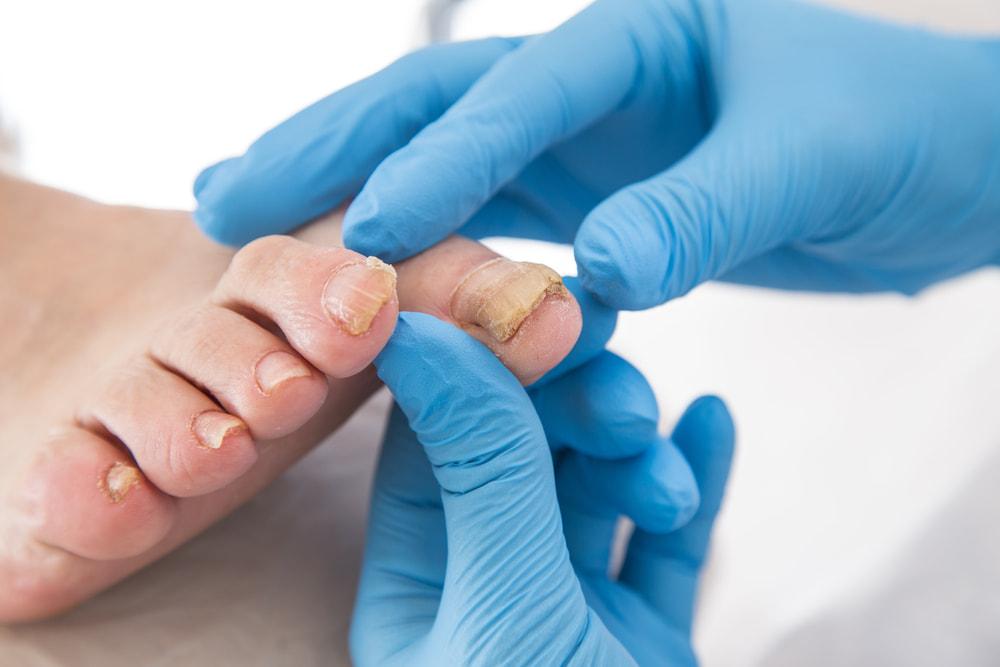 The best treatment is prevention. There are plenty of ways to make sure that you're keeping your feet healthy and clean.
If you wear tight-fitting shoes or you sweat in them daily, spray them with an antifungal to kill the bacteria before it can grow in your shoes.
Wash your feet regularly with antibacterial soap, especially if they come into contact with surfaces where many other people walk barefoot.
Keep your feet dry with powder after showering (and use the powder in your shoes!).
Stay away from unclean or unvetted salons that can't show you how they disinfect and sanitize their instruments.
Choose socks that wick away moisture and keep your feet dry.
Important Things to Remember
You are in control of what touches your feet!
Use your own sandals in the shower at the gym, at work, and at public pools; if you don't let your feet touch the same floor as hundreds of other people, you're lowering your chances of contracting fungal bacteria.
If you enjoy getting pedicures, remember that the tools they use touch other feet all day. Ask the technicians how they sanitize their instruments to prevent contamination.
If you have hangnails or small cuts or scrapes on your feet, it's more likely that bacteria can enter. If your feet are injured, even in a small way, keep them protected with clean, dry bandages.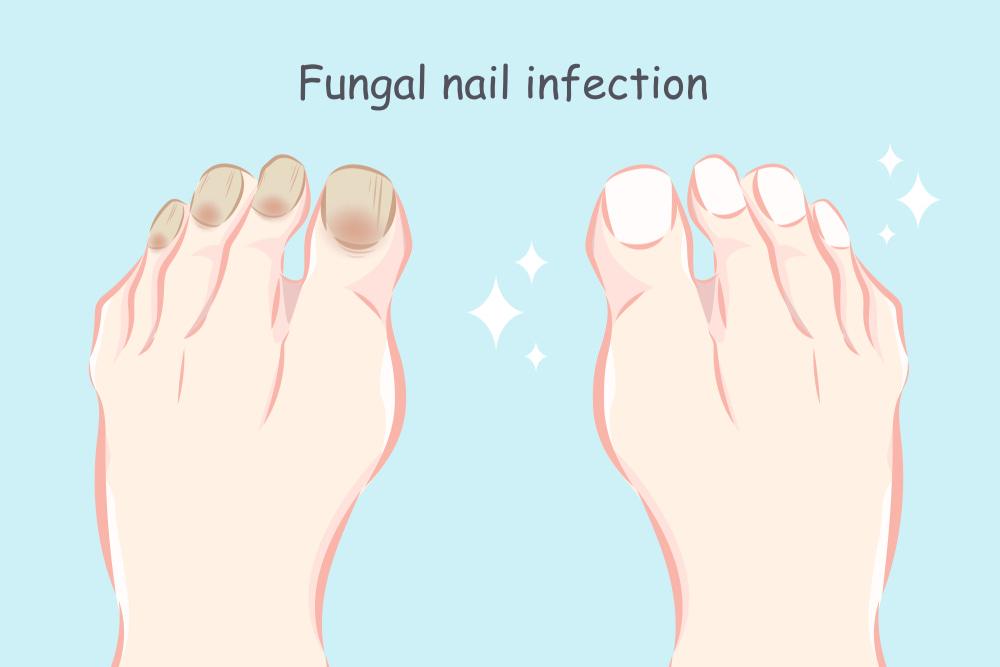 People with diabetes have circulatory issues that can make infection more serious. Keep a close eye on your limbs, hands, and feet for signs of fungal infection; see a doctor at the first sign.
As people age, their nails dry out. This lack of moisture causes cracks in the nail that can make them prone to infection. (This might be why you associate toenail fungus with older people such as your grandparents!) If you're getting on in years, take extra good care of your feet.
This bacteria spreads, and spreads fast! If you come down with athlete's foot, ringworm, or jock itch, remember that anything touching those areas can spread the infection to other parts of your body. Treat early to prevent spread!
Final Thoughts
Knowing what causes foot fungus makes it easier to prevent it from happening in the first place. However, if your nails begin to turn thick, white, or yellow and you know something is growing underneath your toenails, grab a Fungus Eliminator as soon as possible and nip it in the bud! You'll be back to showing off your clean, healthy feet in no time.
---
THIS ARTICLE OFFERS HEALTH, WELLNESS, FITNESS AND NUTRITIONAL INFORMATION AND IS DESIGNED FOR EDUCATIONAL PURPOSES ONLY. YOU SHOULD NOT RELY ON THIS INFORMATION AS A SUBSTITUTE FOR, NOR DOES IT REPLACE, PROFESSIONAL MEDICAL ADVICE, DIAGNOSIS, OR TREATMENT. IF YOU HAVE ANY CONCERNS OR QUESTIONS ABOUT YOUR HEALTH, YOU SHOULD ALWAYS CONSULT WITH A PHYSICIAN OR OTHER HEALTH-CARE PROFESSIONAL. DO NOT DISREGARD, AVOID OR DELAY OBTAINING MEDICAL OR HEALTH RELATED ADVICE FROM YOUR HEALTH-CARE PROFESSIONAL BECAUSE OF SOMETHING YOU MAY HAVE READ ON THIS SITE. THE USE OF ANY INFORMATION PROVIDED ON THIS SITE IS SOLELY AT YOUR OWN RISK.
Want to Learn More?