Different Types of Toenail Fungus (2023)
BY PUREHEALTH RESEARCH | March 2, 2023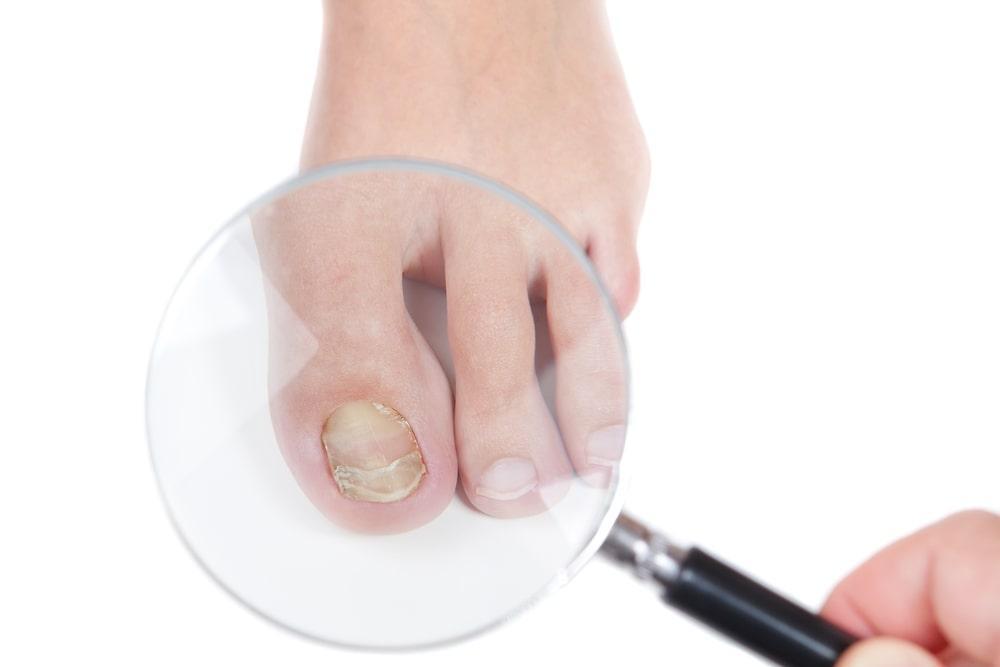 What do you know about the different types of toenail fungus or various types of foot fungus? Most people have little knowledge until they or someone in their family ends up affected. It's time to get a better understanding of exactly what it is and the best ways to treat it.
Another term for toenail fungus is onychomycosis, and it refers to any sort of fungal infection that occurs under at least one toenail. Typically, the infection is going to start small and can be difficult to notice. It begins as a small spot, generally white or yellow, and it often occurs just beneath the tip of the nail. It can go deeper, and in serious cases, it could cause someone to lose their toenail.
While these nail infections and fungi can grow on the fingernails, they are more common on the toes. This is because the feet are often kept in socks and shoes, which can create a dark and damp environment. It provides the perfect conditions for fungus to thrive.
Some of the common types of symptoms associated with toenail fungus include a white or yellow discoloration of the nails, thickened nails, misshaped nails, an odor, and brittle or ragged nails.
What Are the Different Types of Toenail Fungus?
There are three different types of toenail fungus. They include subungual onychomycosis, white superficial onychomycosis, and candida onychomycosis. Let's get a closer look at each of these.
First, we have subungual onychomycosis. This is a type of nail infection that is caused by dermatophytes. This is a type of fungus similar to that which causes Athlete's Foot. The infection could start at the base of the nail or underneath.
Next is white superficial onychomycosis, which is caused by acremonium or fusarium, which are types of fungi. The term superficial is apt, as this infection only happens on the top layer of the nail. It will generally first appear as white spots. This sort of infection is the simplest one to treat because it is on top of the nail and is easy to reach.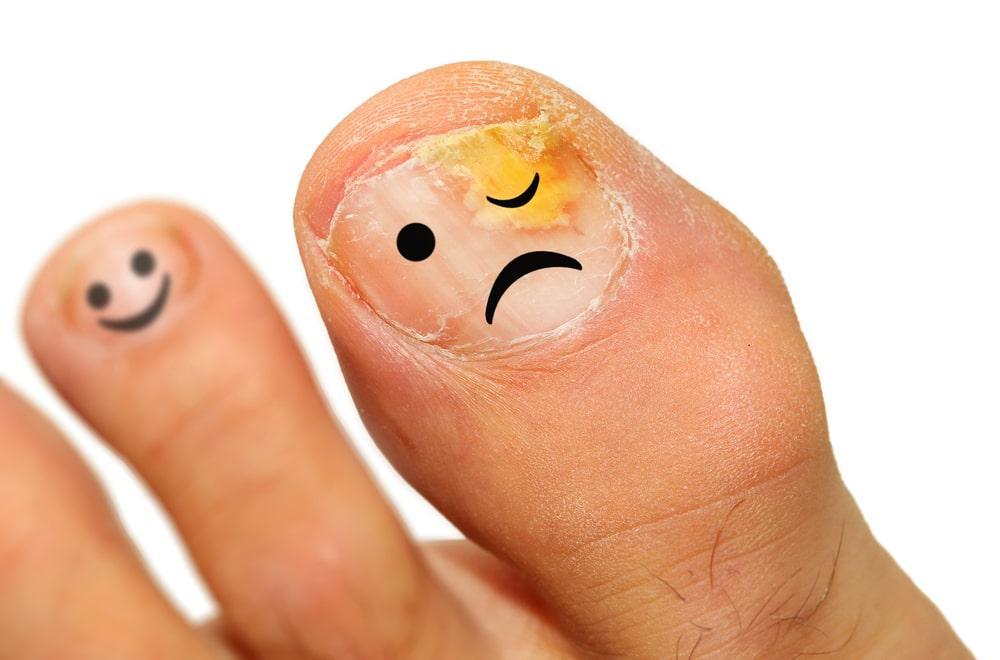 However, just because it is easy to treat doesn't mean you should wait to get the treatment done. If you don't take care of the infection in a timely manner, it is going to spread. It will eventually affect the entire nail. It might become crumbly or rough.
The third is candida onychomycosis. As the name suggests, this type of toenail fungus is caused by candida or yeast. Candida infections happen to be the most prominent fungal infection in general, but it isn't as common in nails.
Is Toenail Fungus Painful?
Most of the time, regardless of the type of toenail fungus someone has, it isn't painful in the beginning. Because there is no pain, and it can be difficult to notice at first and it is easy for it to start to spread before being treated. Quite often, someone could be living with a fungal infection of their toenails for weeks without realizing there is anything wrong.
The longer the infection persists without any sort of treatment, the more it is going to spread. Those who do not check their feet and toenails very often may well go weeks or longer without noticing any issues. When the fungus continues to spread, the affected nail will grow thicker and brittle. It can also start to change shape. At this point, it can start to cause some serious pain.
The condition can get worse until it becomes hard to wear shoes. The toenail might eventually fall off.
One of the other questions that often gets asked regarding toenail fungus is whether it is contagious or not. You will find that it can be, as long as the conditions are right. Remember, to have a fungal infection, you typically need to have moisture and darkness. This will increase the chance of getting the fungus.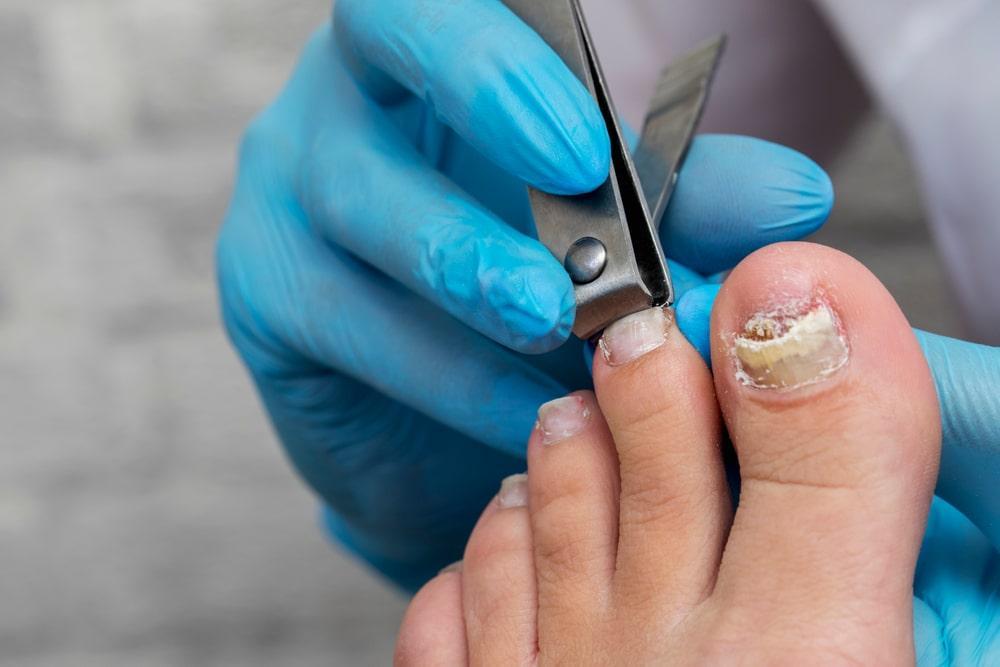 If you are in an environment conducive to the fungus and someone else has it, then it could spread to you if you come into contact with the fungus or items that have been in contact with the fungus. The same is true for most types of toe fungus, such as Athlete's Foot.
Something else that can increase the chance of getting an infection is having a weakened immune system. This is because it is harder for the body to attempt to fight off the fungus.
You will want to keep in mind that toenail fungus does more than just cause unsightly toenails and some pain. There are complications and risk factors with toenail fungus, too. They could be an indicator of other health problems you are facing.
Peripheral vascular disease and diabetes both can cause reduced blood flow to the extremities. When going through antifungal therapy, it could mean you will need a longer course of treatment for it to work properly. Physical trauma could also cause more issues. If there is damage to the feet or the toes and nails, they might take longer to heal, and it could make it easier to get fungal infections in the first place.
How to Treat Toenail Fungus
First, how do you know whether you have toenail fungus or not? In some cases, you might be able to get a good indication simply by inspecting the nails. Are they discolored and brittle? Have they become overly thick? If you believe your nails have a fungal infection, you can use some over-the-counter solutions to help get it under control.
If you aren't sure, you could always talk with a doctor. They will examine the nails and may send a sample to the lab. This will give them an understanding of whether it is a fungus or something else causing the problem, such as a different type of infection or even psoriasis, which can look like toenail fungus.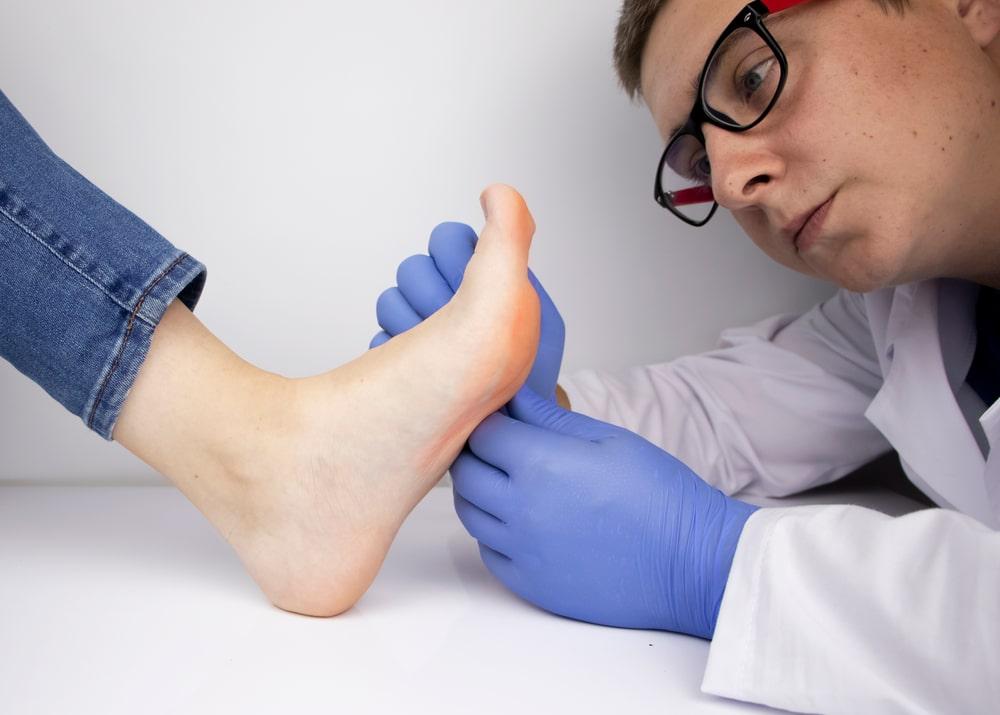 If you do have toenail fungus, you naturally want to treat it as soon as possible. It is unsightly and could cause you to lose your nails if you don't get treatment. Keep in mind that the fungus will not typically go away on its own. You are going to need to have treatment for the types of nail infections you have.
Fortunately, there are some good and effective means of getting your toenail fungus under control. Doctors will often prescribe an oral medication, such as Lamisil or Sporanox, as they can help to remove the fungus in a relatively short period. However, the doctor will want to examine you first to make sure that you are healthy enough for the treatment, as some of the medicines have the potential to cause liver damage. For that reason, it may be a better option to first consider natural solutions.
For example, a viable and natural option you will want to consider when you are treating toenail fungus is Fungus Eliminator by PureHealth Research. This product features nine natural fungus fighters, as well as botanicals that are meant to help improve immunity. It is a natural remedy, and those who use it won't have to worry about immunity-destroying antibiotics.
You also have to think about what you do after you get rid of the infection and you are sure the fungus infection is dying. Remember, the fungus can still be living in your shoes and socks. It is a good idea to stop wearing those shoes and to make sure all clothing, especially your socks, has been thoroughly cleaned. To know more about removing toenail fungus, read our article about best ways to get rid of toenail fungus.
Key Takeaways
Several types of toenail fungus could be affecting your nails. It is important to remain vigilant and to look for signs of fungus regularly, so you can deal with it before it becomes a major problem. Look into the risk factors, such as health issues and cleanliness, and make sure you take care of the fungus right away. The longer you wait, the worse it is going to get.
You can also actively try to prevent toenail fungus by changing certain things you do. Keep your feet clean and dry, change shoes and socks each day, take care of any other medical conditions you might have, such as diabetes, and wear shoes in public locker rooms and when using public pools.
Final Thoughts
Regardless of the type of toenail fungus you may have, it is important to get it treated right away. The sooner you take care of the issue the better. Using a product like Fungus Eliminator can be just what's needed to help get your toenails back in good shape, all without the need for traditional antibiotics.
Take good care of your feet and make sure to inspect your toenails at least once a week. When you cut your nails, you should check for those little white and yellow spots, as well as any thickening of the nails that could indicate fungus. If you notice any issues, make sure you start handling the nail fungus before it gets worse.
---
THIS SITE OFFERS HEALTH, WELLNESS, FITNESS AND NUTRITIONAL INFORMATION AND IS DESIGNED FOR EDUCATIONAL PURPOSES ONLY. YOU SHOULD NOT RELY ON THIS INFORMATION AS A SUBSTITUTE FOR, NOR DOES IT REPLACE, PROFESSIONAL MEDICAL ADVICE, DIAGNOSIS, OR TREATMENT. IF YOU HAVE ANY CONCERNS OR QUESTIONS ABOUT YOUR HEALTH, YOU SHOULD ALWAYS CONSULT WITH A PHYSICIAN OR OTHER HEALTH-CARE PROFESSIONAL. DO NOT DISREGARD, AVOID OR DELAY OBTAINING MEDICAL OR HEALTH RELATED ADVICE FROM YOUR HEALTH-CARE PROFESSIONAL BECAUSE OF SOMETHING YOU MAY HAVE READ ON THIS SITE. THE USE OF ANY INFORMATION PROVIDED ON THIS SITE IS SOLELY AT YOUR OWN RISK.
NOTHING STATED OR POSTED ON THIS SITE OR AVAILABLE THROUGH ANY SERVICES ARE INTENDED TO BE, AND MUST NOT BE TAKEN TO BE, THE PRACTICE OF MEDICAL OR COUNSELING CARE. FOR PURPOSES OF THIS AGREEMENT, THE PRACTICE OF MEDICINE AND COUNSELING INCLUDES, WITHOUT LIMITATION, PSYCHIATRY, PSYCHOLOGY, PSYCHOTHERAPY, OR PROVIDING HEALTH CARE TREATMENT, INSTRUCTIONS, DIAGNOSIS, PROGNOSIS OR ADVICE.
Want to Learn More?