How to Know if Toenail Fungus is Dying (2023)
BY PUREHEALTH RESEARCH | May 7, 2023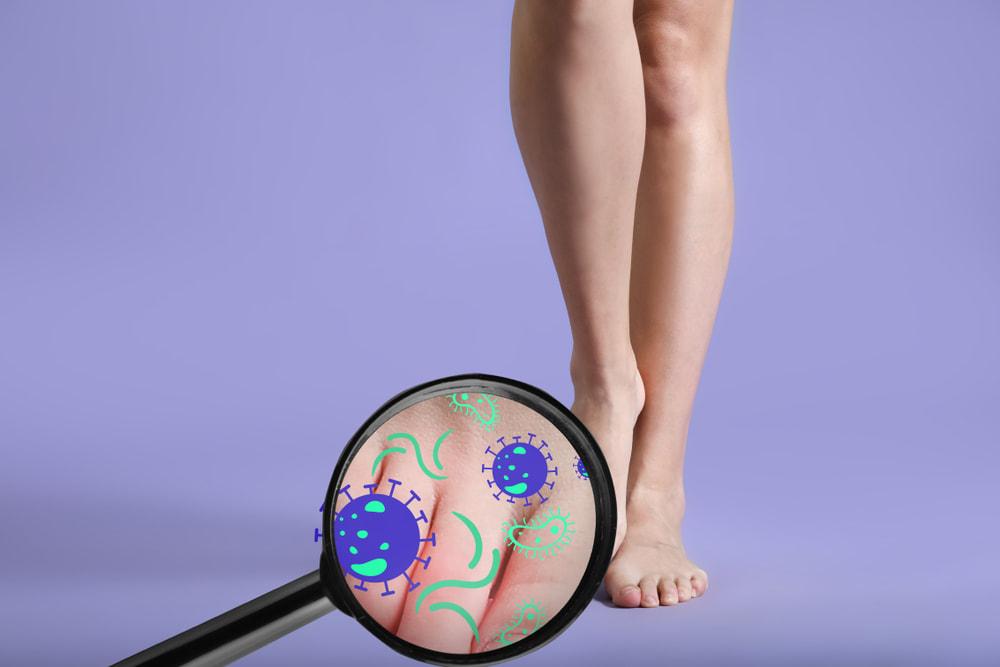 Toenail fungus is an unfortunately common problem that affects about 10% of the population. When it is left untreated, it can cause a nail to develop whitish or yellow spots. Eventually, the nail could change color to yellow, green, brown, or black. The nail will become thicker and brittle, and in some cases, it will fall off entirely. It is important to have proper treatment started as soon as possible, and you will want to learn how to know if your toenail fungus is dying. This will let you know that the treatments are working and that they need to be continued.
One of the big issues with toenail fungus is that it starts small and is often unnoticeable. People who don't pay much attention to their feet on a daily basis might go weeks with a growing infection before they realize that there is a problem. As soon as they do notice there is an issue with their toenails, they will want to seek and start treatment. They can then begin to go through the stages of toenail fungus healing.
What Causes Toenail Fungus?
Nail fungus is caused by a range of different types of fungi. The most common of these organisms is called dermatophyte, and they are the typical reasons someone develops a toenail fungus. However, they aren't the only reason. Bacteria, mold, and yeast could also cause infections. In cases where the infection is bacterial, the coloration tends to be either black or green.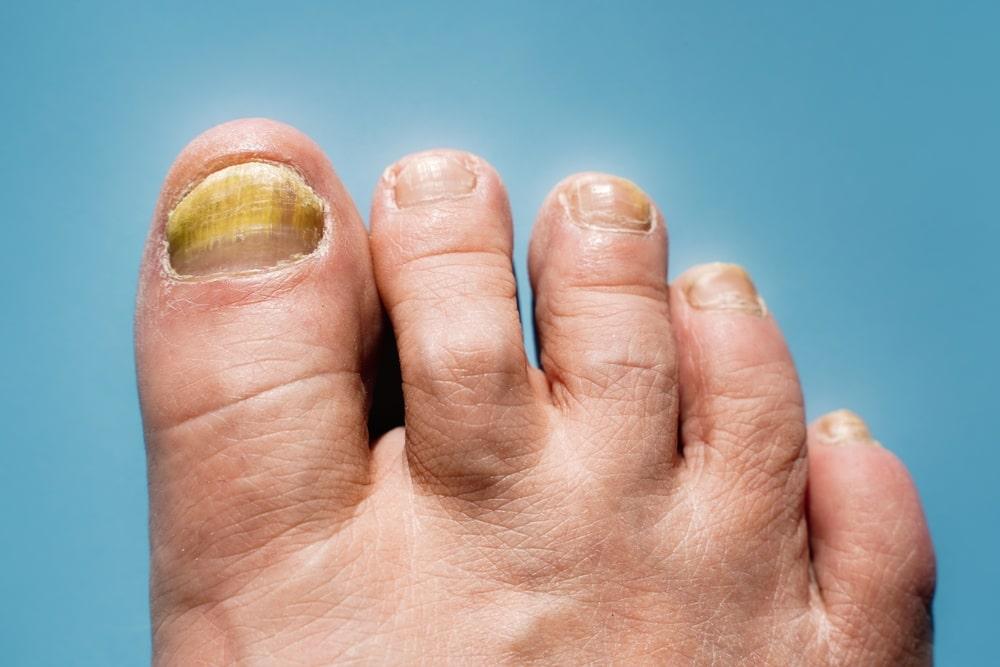 You should also note that fungal foot infections like Athlete's Foot could also spread to the nail, and a nail infection could spread to the foot. It is important to have these things taken care of as soon as possible. If you want to learn more, you can always read our article on what causes toenail fungus!
So How to Know if Toenail Fungus is Dying?
You want to know if toenail fungus is dying, but it might not always be initially apparent. These types of infections can be difficult to treat, and they can take a long time. Depending on how bad the infection is, it might take from 3 to 18 months to clear up.
Regardless of the type of treatment you choose, whether you are using home remedies, over-the-counter antifungals, or a prescription from a doctor, it will take some time. When you are undergoing your treatment, you will want to pay close attention to your nails, so you can see when it starts to work. you will look for a new, healthy nail that is growing from the nailbed. You can also read our article about the best ways to get rid of your toenail fungus.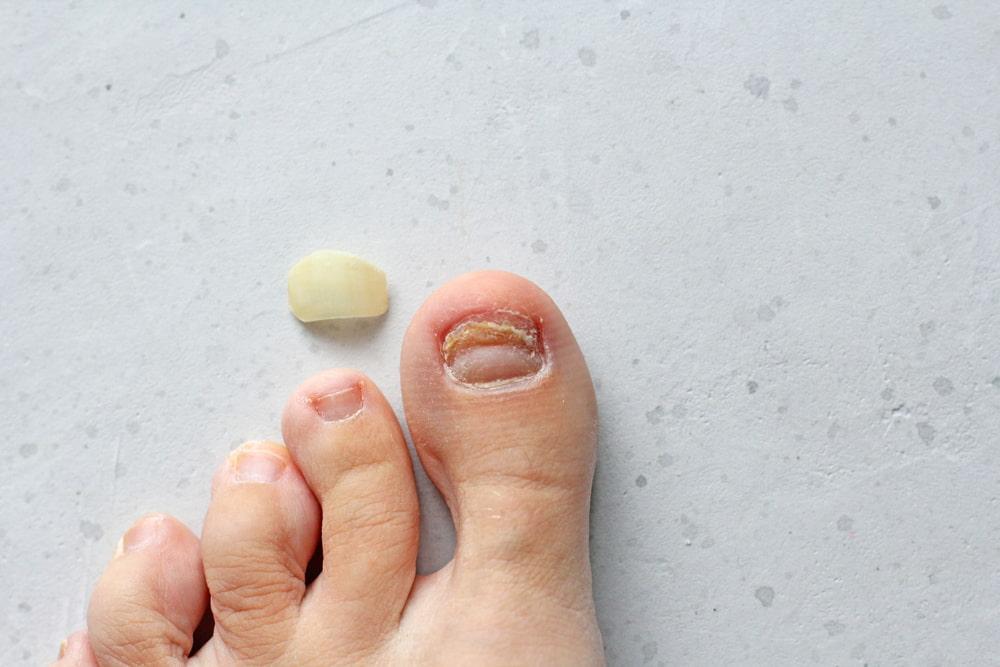 Of course, you will want to keep in mind that it can take quite a while for a full toenail to grow back. On average, a nail is going to grow about 1.62 mm per month. This means that it is going to take a few months to start to see significant progress. It is important to remain steadfast with whatever treatments you use to get to that point. If your infection isn't entirely gone and you stop treatment, it will likely return.
The area of the nail that has been infected won't ever "get rid" of the infection no matter what sort of treatment you use. What you will need to do instead is continue to trim your nail as it grows until all of the nail that was infected is gone. Make sure you clean and disinfect your clippers when you use them, as well. Otherwise, you might spread the fungus.
This is something to know if your toenail fungus is dying. Remember that it spreads in warm, dark, moist environments. This is true of all fungi including athlete's foot, ringworm, etc.
5 Signs that Toenail Fungus is Dying
Here are five signs that your toenail fungus may be dying:
1. Nail Color Changes
If your nail has been discolored due to fungus, you may notice that it's starting to look more like its original color. The nail may appear less yellow or white and more pink or clear.
2. Smaller Affected Area
As the fungus dies, it may start to affect a smaller area of your nail. This is a sign that the treatment you're using is working.
3. Nail thickness changes
Thickened nails are a common symptom of toenail fungus. As the fungus dies, you may notice that your nail is starting to thin out.
4. Less foul odor
Toenail fungus can cause a strong, unpleasant odor. If you notice that the odor is starting to fade away, it could be a sign that the fungus is dying.
5. Reduced pain or discomfort
Toenail fungus can cause pain and discomfort, especially if it's severe. As the fungus dies, you may start to feel less pain or discomfort in your nail.
Why Do You Need to Treat Toenail Fungus?
For starters, the fungus is unsightly, and you won't want to be around anyone if you have to take off your shoes and socks. This means no pool parties, no soaking in a sauna, or even going barefoot around the house. The longer toenail fungus persists the worse it becomes.
Still, quite a few people end up letting it go untreated. They might feel that it is just an aesthetic issue, and they might not care what their toenails look like. This attitude tends to be more common with men than it does with women, but it can happen with anyone. However, it is important to understand that this is more than just cosmetic.
When you don't get treatment for the toenail fungus, it could cause some other issues. As mentioned above, there is a chance that it could spread beyond the toenails to other parts of your body. It can also be contagious, which means you could end up infecting a lot of other people if you aren't careful.
When left untreated, the nails will also often become misshapen, which can cause ingrown toenails. These can be extremely painful and difficult to deal with. They can dig into the flesh of your toes, and they could even result in a more serious infection.
There is some evidence from a study in 2012 published in the Journal of the American Academy of Dermatology that found having chronic toenail fungus could increase the risk of bacterial cellulitis in the legs. For those who have diabetes, toenail fungus can cause other dangers. It could lead to various foot problems and ulcers.
As you can see, the health risks associated with toenail fungus are a lot more serious than many people realize. If you see signs of fungus on your toenails, don't wait. Make sure you are getting the treatment you need to get your nails back in good shape as soon as possible. The sooner you act, the better. Of course, not everyone bothers to see how serious the problem can be.
Toenail Fungus Treatments
If you have let the toenail fungus remain untreated for a long time, you will find that it can be difficult to remove without the help of a doctor. They will examine and diagnose you and may then offer antifungal treatments or antibiotics. However, if the toenail fungus hasn't gotten quite that bad yet, you might want to consider home remedies or over-the-counter antifungals found online and in pharmacies.
You want to do your best to eliminate areas where fungus could proliferate, so you can reduce the risk of it returning. Get rid of old socks that could have fungus inside, for example. The same with shoes if you've worn them without socks. You can also use a spray fungicide on your shoes rather than getting rid of them entirely.
You should also consider taking a supplement that can help to fight against toenail fungus. Consider Fungus Eliminator, a toenail care product that features a range of fungus fighters and botanicals meant to help boost immunity. Some of the ingredients include garlic, wormwood, turmeric, apple cider vinegar, and oregano. This product helps to fight toenail fungus, and it will help to keep it from coming back. It is simple to use, and it is an effective treatment.
Key Takeaways
The most important thing you will want to keep in mind is that toenail fungus won't go away on its own. This is not something you can ignore, so make sure you learn how to know if your toenail fungus is dying and whether you are getting better. Take the guidance found here and apply it when you are dealing with toenail fungus. The advice can help to reduce the spread and could get your nails back to normal sooner rather than later.
Of course, you still need to remember to be patient. Even when you are using all of the right treatments, it can still take quite a while for your fungus to finally die and be gone for good. Don't make the mistake of quitting treatment once you begin to see progress. You will want to make sure it is entirely gone and that it is not going to come back.
Final Thoughts
No one wants to go through the trouble of dealing with toenail fungus. It is difficult to catch early, which means it can spread without you being fully aware. However, following through with the right treatments can make a difference and can start the healing process. Now that you know how to tell if toenail fungus is healing, you will have a better understanding of just how long it might take for your nail to heal fully.
However, you will want to remain vigilant. Just because you were able to get rid of the fungus on your feet one day doesn't mean that it can't come back. Be wary of where you are putting your feet, clean them regularly, and look for signs of toe fungus. When you are undergoing treatments, make sure that you are vigilant and that you follow through with everything.
---
THIS SITE OFFERS HEALTH, WELLNESS, FITNESS AND NUTRITIONAL INFORMATION AND IS DESIGNED FOR EDUCATIONAL PURPOSES ONLY. YOU SHOULD NOT RELY ON THIS INFORMATION AS A SUBSTITUTE FOR, NOR DOES IT REPLACE, PROFESSIONAL MEDICAL ADVICE, DIAGNOSIS, OR TREATMENT. IF YOU HAVE ANY CONCERNS OR QUESTIONS ABOUT YOUR HEALTH, YOU SHOULD ALWAYS CONSULT WITH A PHYSICIAN OR OTHER HEALTH-CARE PROFESSIONAL. DO NOT DISREGARD, AVOID OR DELAY OBTAINING MEDICAL OR HEALTH RELATED ADVICE FROM YOUR HEALTH-CARE PROFESSIONAL BECAUSE OF SOMETHING YOU MAY HAVE READ ON THIS SITE. THE USE OF ANY INFORMATION PROVIDED ON THIS SITE IS SOLELY AT YOUR OWN RISK.
NOTHING STATED OR POSTED ON THIS SITE OR AVAILABLE THROUGH ANY SERVICES ARE INTENDED TO BE, AND MUST NOT BE TAKEN TO BE, THE PRACTICE OF MEDICAL OR COUNSELING CARE. FOR PURPOSES OF THIS AGREEMENT, THE PRACTICE OF MEDICINE AND COUNSELING INCLUDES, WITHOUT LIMITATION, PSYCHIATRY, PSYCHOLOGY, PSYCHOTHERAPY, OR PROVIDING HEALTH CARE TREATMENT, INSTRUCTIONS, DIAGNOSIS, PROGNOSIS OR ADVICE.
Want to Learn More?
Popular Posts